Inspire people with your choice, buying our
captivating Items like Hotel Linen,Cotton
Rugs and many more...
Many people across the world spend huge amounts of their earnings on home furnishings for making their homes look appealing and attractive. When it comes to charming the looks of a home, first thing which is considered most important is to decorate the surroundings and take up the art of home furnishing Carpet. There are a large number of things that matters and used by people to give appealing effect to a particular room or space. We, Craftola International, are providing a series of such products, investment on whom will give to strength to enhance the beauty of your place at low cost. From our market based shop as well as online platform, you can choose & order AC Comforters, Home Furnishing Rugs, Designer Quilts, Cushion Covers, Jaipuri Rugs, Carpet Tapastre, Hotel Linen,Cotton Rugs etc. We not just help clients in beautifying their places but also in maintenance of their precious & high investments with our range of Car, Furniture & Quilted Mattress Protector.

Quality Products

The soft yet tear resistive fabric of our protectors guard your valuables from dust, stains and many such things that can harm the beauty. Our entire product line be it home furnishing or protectors is offered in many colors, sizes, materials and designs so that you have option of buying the best as per your requirements. Further, as a reputed manufacturer and wholesaler, we enhance the visual appeal of our home furnishing Rugs items with their catchy packing, which also makes them a perfect gifting option on festivals and house warming parties. Following are the efforts we do to launch collection of new designs:

Upgradation of designing software and production machines
Subscription of fashion magazines and newspapers to get ideas of trends
Arrangements of exhibitions and seminars
Taking and analyzing the feedback of clients for products designs

Say Bye To Old and Hi To New

Trends does change frequently, the one cushion covers set you bought few years ago may have the same splendid finishing but its designs will surely have bid-adieu to the trending list of the market. With every season, there comes new designs that please the eyes and make their place in hearts of home decoration passionate people. At Craftola International, we well understand this desire of people and work sincerely to end their search for such classy home textile pieces. Our experts who regularly visit the seminars and exhibitions of the industry analyze the prevailing trends and work with honesty to launch something better and trends setting in the market. They regularly conduct experiment with the shapes, color shades & combinations and prints (animal prints, geometrical prints, ethnic baatik prints, etc.) to launch an unique collection for the clients. All this is done at our premise with the sole goal of helping clients in bidding adieu to their old home furnishing Carpet and welcoming our creations.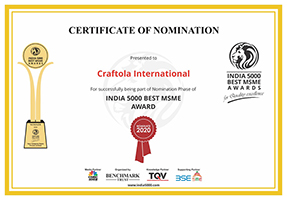 Read More